A TREASURE REDISCOVERED
Second Baruch, a.k.a. the Apocalypse of Baruch, is a long-forgotten scroll written by the prophet Baruch c. 586 BC, immediately following the destruction of Jerusalem at the hands of the Babylonians. Whereas First Baruch was at one time included in the Bible, Second Baruch was almost lost to the ravages of time. Thankfully, one manuscript remained intact throughout the centuries, preserved by the Syriac Orthodox Church. It was rediscovered in 1866.
Scholars were quick to pass judgment on the text, labeling it as pseudepigraphal and teaching everyone that it was written much later in history than it claims. But are the scholars to be trusted? If their assessment is wrong, and 2 Baruch is actually an inspired scripture from a little-known Hebrew prophet, then we ought to carefully read and consider it in light of the other scriptures. Watchman Alexander Lawrence, author of Leviathan's Ruse, wants to take you step-by-step through a study of this very valuable but sadly misunderstood scroll.
In this enthralling 12-lesson teaching series on the Book of 2 Baruch (a.k.a the Syriac Apocalypse of Baruch), you'll discover how the forgotten writings of Jeremiah's disciple tie in perfectly to the canonized scriptures.

This course is taught from a (mostly) Historic Premillennialist standpoint. The instructor is independent and not affiliated with any denomination.
---
Objection: "I could learn this book on my own."
It's true, you could. However, you may not extract nearly as much from it on your own. Elohiym (God) has assigned certain roles and abilities to the members of his Kingdom in order for us to minister to our fellows. Teaching is one of those roles (1 Cor. 12:28-29). An anointed teacher will see things in Scripture that others won't, and will make connections between scriptures that lead to "ah-ha!" moments for students.
Alexander Lawrence has dedicated many hundreds of hours to the study of Hebrew prophecies (both canonized and apocryphal), and has taught and preached the Word of God for over fifteen years. Through the agency of the Holy Spirit and the benefits of much study, he is able to provide a wealth of unique insights.
In addition to the subjects that are directly addressed in the text of 2 Baruch, Alexander tackles associated subjects such as:
The fate of the Ark of the Covenant
The relationship between Sheol, Paradise, and the 3rd heaven
The distinctions between types of unclean spirits
The purpose of Levitical rituals and the future role of the Temple
The reason that the False Messiah is associated with cedar trees
And more
---
Schedule:
This course consists of 12 lectures, each with an accompanying guidebook. The lectures are approximately a half-hour in length.
Course content is divided into eight sections, as follows:
The Destiny of Jerusalem
Lamentation and Correction
Eschatology Round 1
Baruch Addressess his Kinsmen
Eschatology Round 2
Another Address
Eschatology Round 3
Letters to the Exiles
---
Bonuses Included:
A printable participant's guide
Access to an exclusive Facebook group called "Investigators of the Forgotten Scrolls"
40% off The Prophecy Cheat Sheet* upon release <<OR>> 20% off The Prophecy Cheat Sheet and 25% off Leviathan's Ruse, Vol. 1 when delivered together as a set
*The Prophecy Cheat Sheet is a reference book currently being composed by Alexander Lawrence. It lists all end-time prophecies from the scriptures, arranged topically, and includes explanatory indices.
Sample page from the participant's guide: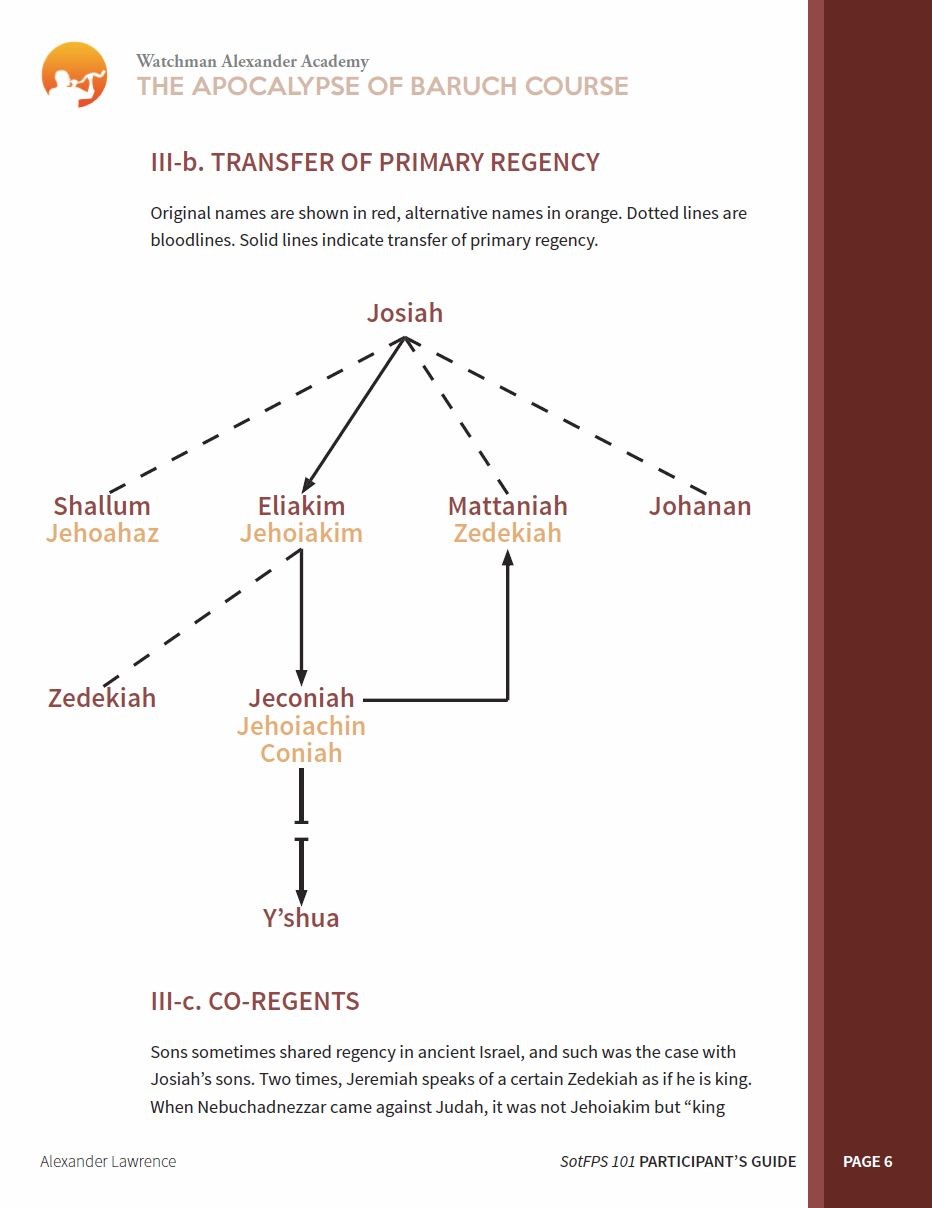 ---
Payment Plan:
I know that some people are on a tight budget and find it difficult to justify spending $55 at once (I'm one of them), so I'm offering the option to spread out payments over three months. That brings the cost down to just over $19/mo, which is very doable! Almost everyone can find $20 in their budget if they make the effort. For instance, once a month, instead of eating out, you could have a salad or fast for meal. Sometimes exchanging physical food for spiritual food can be beneficial.

UPDATE: The entire course is now available for free!



Your Instructor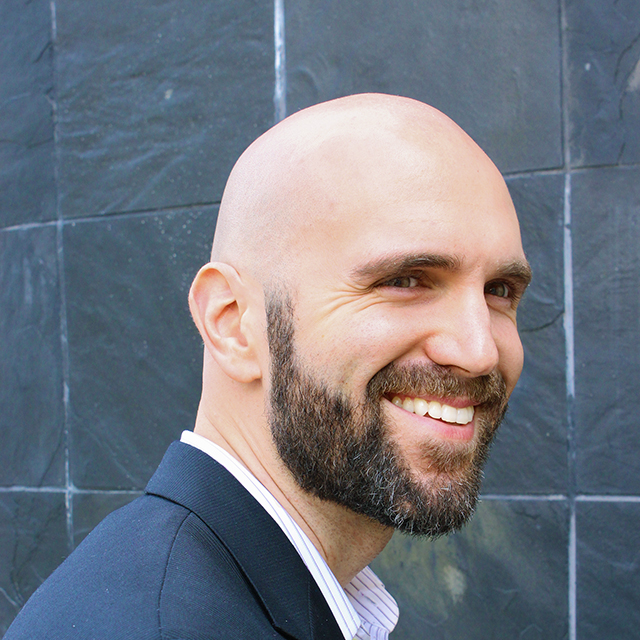 Alexander is a Christian who is passionate about teaching the Word of God from a Hebraic perspective and in historical context. By doing so, he equip Adonai's flock with the life-changing knowledge they need in order to fight the Kingdom of Satan effectively in the Last Days. His wheelhouse is eschatology (the study of end things), angelology, demonology, the history of mystery religions, the refutation of occult philosophies, and the study of biblical holy days as they relate to prophecy.
Alexander is the author of a regularly-updated blog and a non-fiction book, Leviathan's Ruse: The Comprehensive Guide to the Battle Between Good and Evil. He also hosts a weekly podcast called Searching the Scriptures with Watchman Alexander.

Since publishing his first book, Alexander has had the pleasure of speaking on a nationally-syndicated radio show, The Josh Tolley Show, and several other widely-renowned shows such as Caravan to Midnight, Revolutionary Radio, and A Minute to Midnite.
A native Texan who bleeds maroon, Alexander graduated from Texas A&M University at College Station in 2004.
Course Curriculum
Introduction
Available in days
days after you enroll
The Destiny of Jerusalem
Available in days
days after you enroll
Lamentation and Correction
Available in days
days after you enroll
Frequently Asked Questions
When does the course start and finish?
The course starts now and never ends! It is a completely self-paced online course - you decide when you start and when you finish.
How long do I have access to the course?
How does lifetime access sound? After enrolling, you have unlimited access to this course for as long as you like - across any and all devices you own.
What if I am unhappy with the course?
We would never want you to be unhappy! If you are unsatisfied with your purchase, contact us within the first three lessons and you will be fully refunded.
WATCH THE FREE PREVIEW LECTURE
Did you notice that you can preview the introduction to the course AND an entire lesson? Click the "Preview" buttons in the Course Curriculum section above and get a taste for the content.
SHARE THE JOURNEY
This course makes an excellent study for small groups! You can have each attendee print out their own copy of the participant's guide and then watch the lectures together. They will definitely stimulate deep discussion.
WHAT ARE YOU WAITING FOR?
There's absolutely no risk. If you don't like the content, let us know before you start the fourth lesson and we'll issue a full refund. But we feel confident that once you get started, you won't want to stop. The Apocalypse of Baruch will strengthen your understanding of the whole Word of God and offer knowledge of the future that you won't find clearly delineated anywhere else. Get started today!